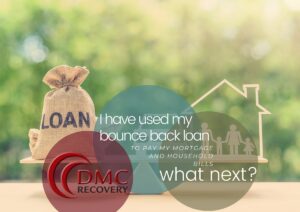 If your small business has recently suffered from financial losses arising as a result of the COVID-19 pandemic, you, as company director or sole trader, may have taken advantage of the government-supported bounce back loan scheme. This may have helped you carry your business through this difficult period in order to avoid liquidation, but what if you've used it for other purposes?
Bounce back loans offer struggling businesses up to £50,000 depending on the business' usual annual turnover, and allow a six-to-ten-year repayment term. The scheme was launched on 4th May 2020 and eligible business owners have until 31st March 2021 to apply for a loan.
Can a bounce back loan be used for personal expenses?
No, this is fraudulent use of the loan. Bounce bank loans are intended to cover the daily running expenses of your business. This includes using the money to cover any repayments of existing business loans you may have taken out prior to the coronavirus situation, paying suppliers, redesigning your website to take into consideration your current circumstances, or even purchasing stock or equipment for your company.
Why shouldn't bounce back loans be used for personal expenses?
Bounce back loans are protected by the UK government, and in the event that the business defaults on the loan repayments, your personal assets such as your home or vehicle shouldl not be at risk. This guarantee, however, is subject to the borrower adhering to the terms of the loan. Using a bounce back loan to pay personal rather than business expenses breaks the term of agreement, and as such you may find yourself personally liable for the repayments.
What should I do to rectify the situation if I've spent the money on personal expenses?
Bounce back loans can legally be used to pay dividends if your company has been making profits that can be distributed to the shareholders. Do you know if you can take dividends? We at DMC Recovery can talk this through with you if you're unsure about the finer details of dividends and what they entail. It's important to get professional advice on using bounce back loans as dividends, as there are risks involved.
Will taking out a personal loan help if I've spent my company bounce back loan on personal expenses?
If you can take out a personal loan to cover the amount spent on your mortgage and household bills, you may be able to rectify the situation, but be aware that personal loans may be secured on your personal assets. In addition, personal loans may be subject to high interest rates, whereas by contrast, the interest rate on bounce back loans is fixed at a deliberately low rate of 0% for the first years  and 2.5% after that.
Our team at DMC Recovery can look through your options and help you to find the best solution for your situation, as we specialise in assisting business owners with their financial difficulties. Don't hesitate to contact us for advice on behalf of your clients, or in regard to your own company.